Being such a growing part of the Muslim entertainment space, it's no surprise that podcasts have been turning up the heat in recent months.
But with so many that have sky-rocketed, it may be useful having a narrowed-down list to know where to tune into 😌
Whether you enjoy deep and meaningful episodes, or you're searching for a more light-hearted chit-chat instead – these podcast shows have a little something in them for everyone!
Muslim Podcasts to Add to Your Playlist:
1. Freshly Grounded – Best for Interesting / Famous Guest Speakers
2. Missheard – Best for Chilled Out / Casual Conversations
3. The Digital Sisterhood – Best for Thought-Provoking Real Life Stories
4. Muslim Central – Great for Personal Development and Advice
5. Muhammad Tim Humble – Best for Islamic Knowledge and Lessons
6. Ilmfeed Podcast – Best for Inspirational Guests
7. Talk Ya Haqq – Best for Muslim Youth / Young Adults
8. Sadly Relatable – Enjoyable and Thought-Provoking Sibling Podcast
9. Hijabi Diaries – Best for Short, Digestible Episodes
---
#1 Freshly Grounded
Best for Interesting / Famous Guest Speakers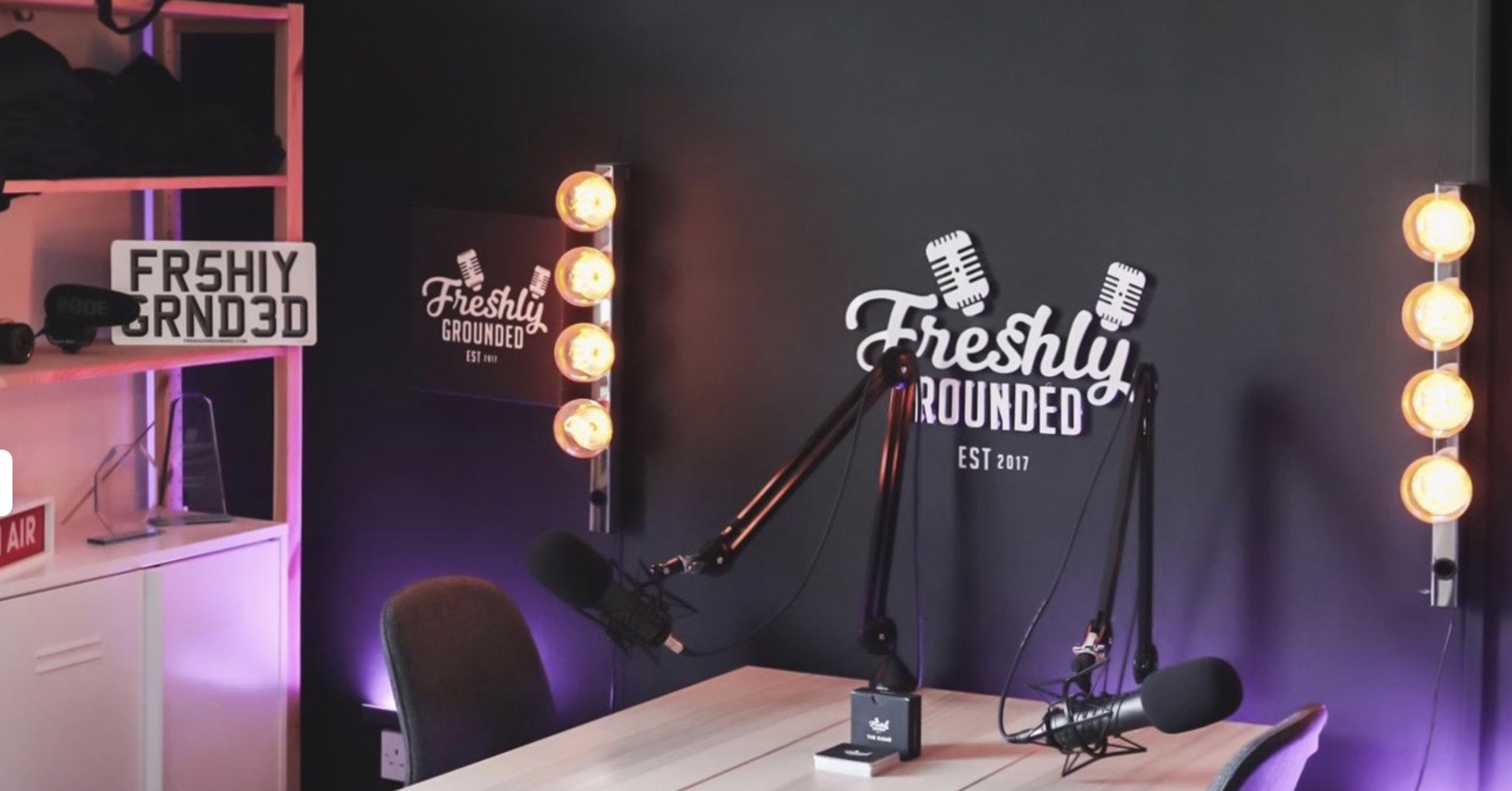 Freshly Grounded broke into the Podcast scene in 2017. Faisal and Sam – two British Muslim Entrepreneurs – jumped behind the mic to open up conversations surrounding lifestyle, current events, business & navigating their faith.
Since the show's launch, Freshly Grounded has seen over 4 million monthly impressions across more than 100 countries, and has brought the podcast to the stage with multiple live shows across the UK.
The main host of the show – Faisal – interviews elite athletes, entertainers and all-round inspirational people from various walks of life. Some of the show's guests include:
Who's This Podcast Good For? 👇
Praised for its meaningful yet casual episodes, this podcast is good for individuals looking for enjoyable, thought-provoking conversations between Muslims. Whether it's a friendly chin-wag in the evening, or a deep insight into the minds of successful Muslims, there is a little something for everyone with Freshly Grounded.
Where Can I Listen?
---
#2 Missheard
Best for Chilled Out / Casual Conversations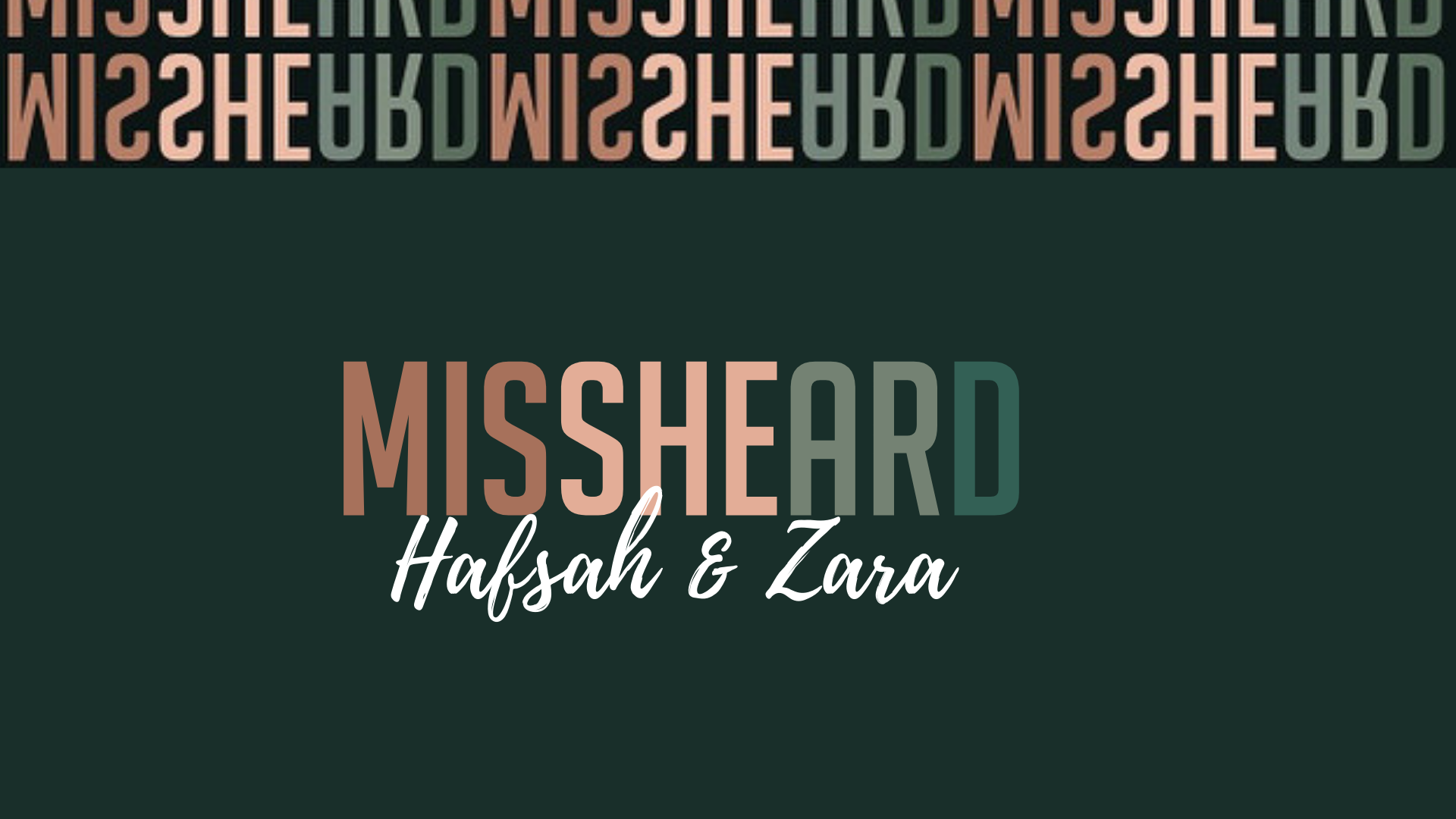 Missheard was a mere idea in a local Korean chicken shop! Yep – you heard that right. 🍜 Started by two 20 year old Muslim girls, Hafsah and Zara share their ongoing experiences with uni, studying Arabic, and navigating life as it is. There's not a stone left unturned with this show.
The girls realise the struggle of growing up in London as a minority-ethnic Muslim woman, and use their platform as a way to open up taboo conversations and everyday life topics.
Who's This Podcast Good For? 👇
If you're looking for a light-hearted listen with a lot of laughs along the way, Missheard is your go-to! You'll also find a range of guests on the show from time to time. Anyone who is trying to balance their studies with their deen, and navigate through family relationships would enjoy this podcast!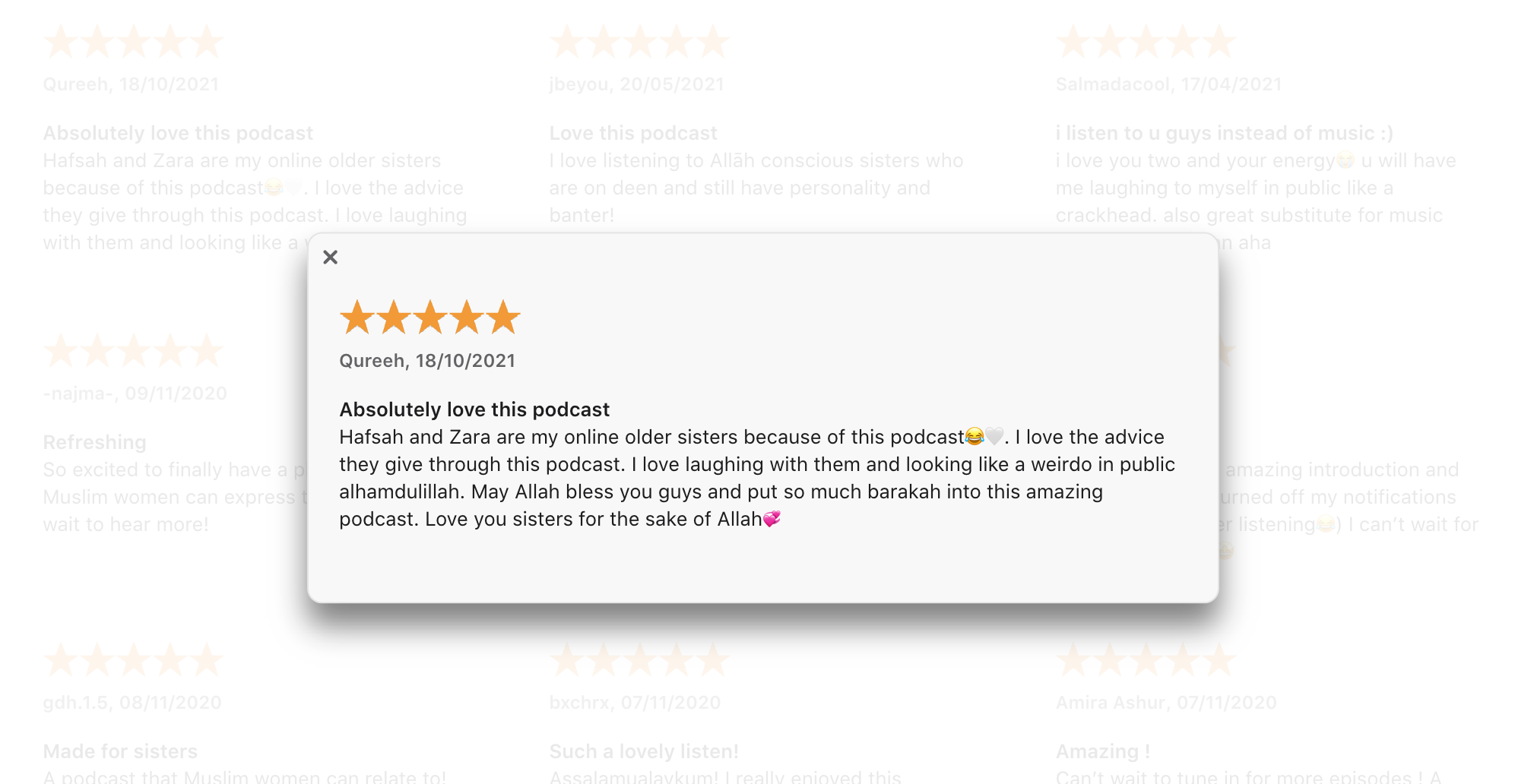 Where Can I Listen?
---
#3 The Digital Sisterhood (TDS)
Best for Thought-Provoking Real Life Stories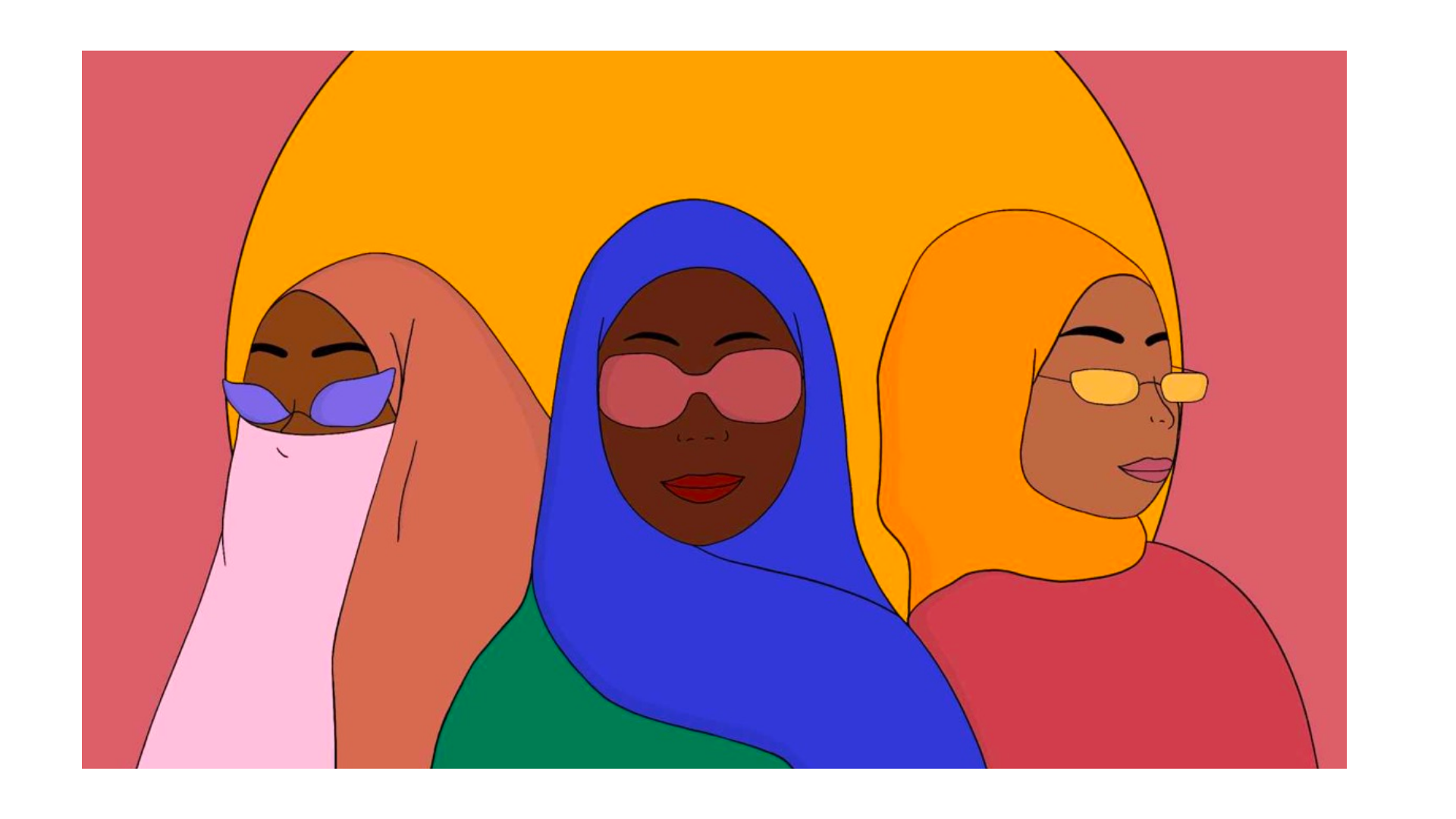 This Toronto-based Muslim podcast has been making serious headlines recently, and it's no surprise as to why! TDS host, Cadaar Mohamud, invites on a new guest every episode to tell their soul-touching story – and let me tell you, there will not be one dry eye in the room. 😢
The Digital Sisterhood focuses on the art of storytelling throughout every episode. Guests on the show share the vulnerable journeys they have embarked on, as well as the important lessons they've encountered along the way. Filled with charisma, laughter, honesty and moments of reflection, these episodes are famously known to bring out the ugly crying faces – just a warning if you don't like tearing up in public!
Who's This Podcast Good For? 👇
Although the podcast aims to provide a platform for Muslim women around the world, this show is really for anyone. Just as a note, some topics such as miscarriage and grief are touched upon through a few of the stories shared. For those looking to connect with real life experiences without the filter – TDS is for you.
And that's on Rabbil Alamin 😌
Where Can I Listen?
---
#4 Muslim Central
Best for Personal Development and Advice

Known for its array of popular guest speakers – such as Mufti Menk, Omar Suleiman and Yasmin Mogahed – Muslim Central Podcast features thousands of Islamic lectures, interviews and debates.
Slightly different from the other podcasts on this list, Muslim Central takes a more 'direct advice' approach, rather than conversational. You won't find two people having a chat on this show, but instead knowledgable individuals sharing words of wisdom on various, in-depth topics.
Who's This Podcast Good For? 👇
If you're someone who is seeking specific Islamic knowledge on a range of subjects then this podcast is recommended. Each podcast episode is dedicated to a topic and very rarely strays from it. For example, if you're wanting to know just about preparing for Ramadan, then you might want to check out this episode by Mufti Menk.
It's good to know that the purpose of Muslim Central is to inform rather than story-tell.
Where Can I Listen?
---
#5 Muhammad Tim Humble
Best for Islamic Knowledge and Lessons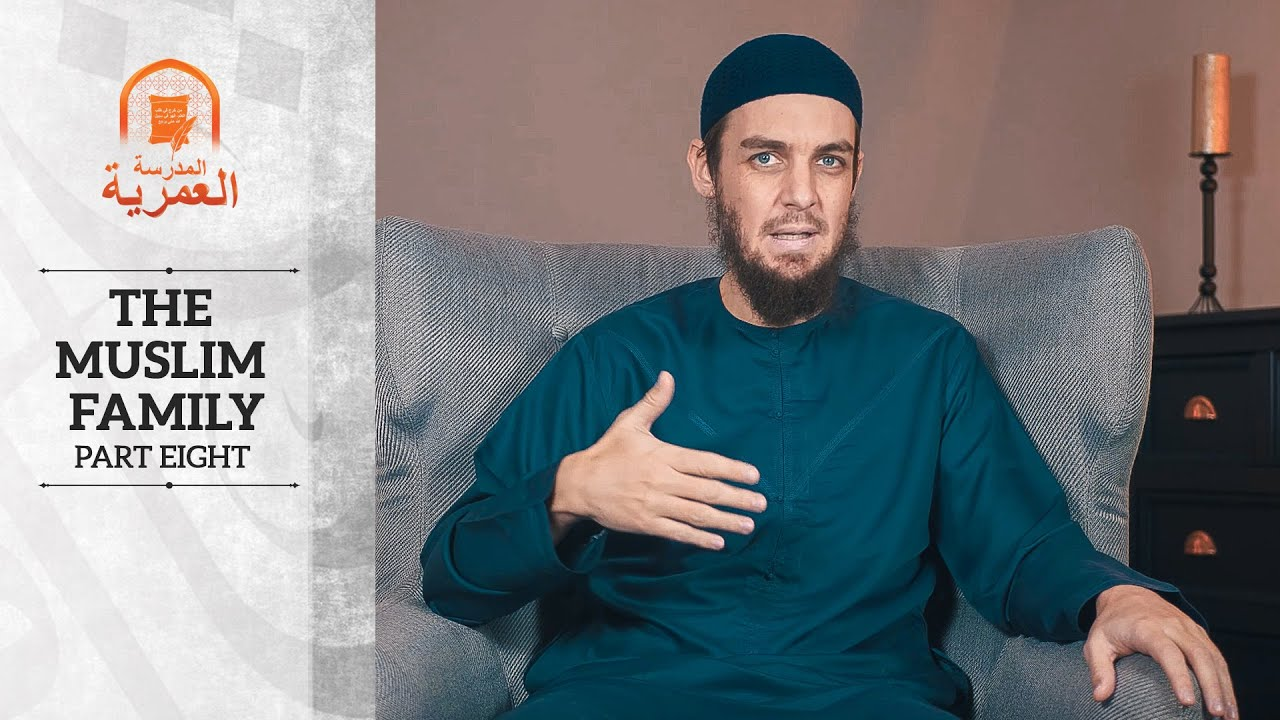 Muhammad Tim Humble is a British revert from Newcastle who studied and graduated from Islamic University of Madinah in 2011.
With his expertise in 'healing with the Quran', Ustadh Tim brings his knowledge to the Muslim Central podcast in the form of various series. Some of his most-loved series include The Muslim Family and Seeker's Knowledge. All the episodes have some amazing gems that you can benefit from whether you're on a long drive, or even if you're getting a few house chores done!
Who's This Podcast Good For? 👇
Anyone can benefit from Muhammad Tim's lectures. As a revert himself, Ustadh Tim often speaks on the struggle of implementing Islam once you have become Muslim. Some communities are not as welcoming as others when it comes to new Muslims – so these series are a beautiful way of gaining knowledge while feeling part of a much wider, digital community.
Where Can I Listen?
Muhammad Tim is always dropping gems in the form of short Instagram clips, too! 📚
---
#6 IlmFeed Podcast
Best for Inspirational Guests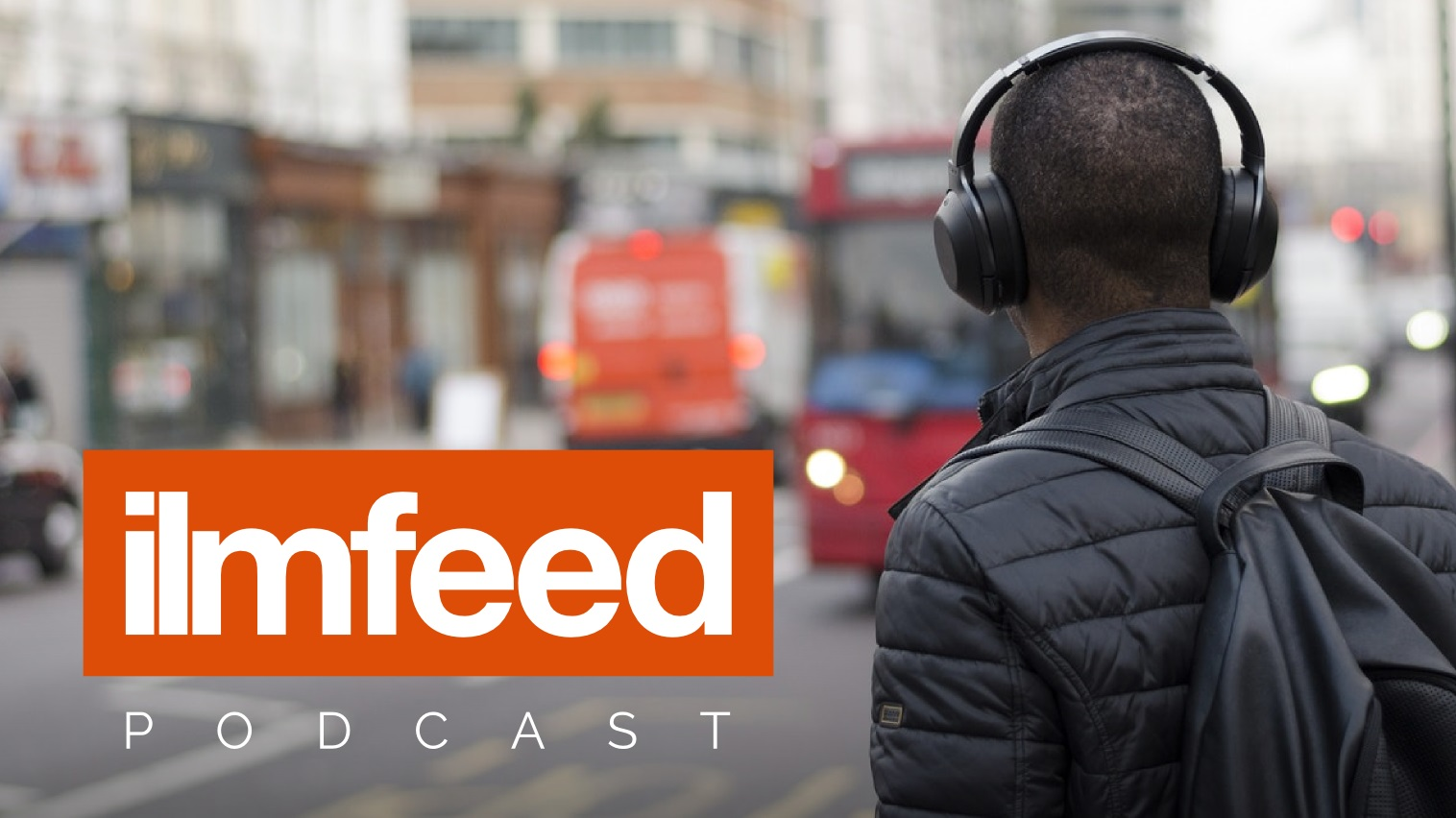 Similar to Muslim Central, IlmFeed invites various Islamic speakers who are well-known for their wealth of knowledge to share tips and advice for listeners. Guests such as Dr Haifaa Younis have graced this platform, and the podcast has discussed topics like Marriage, Islamic Finance and Leadership in past episodes.
Who's This Podcast Good For? 👇
The podcast takes more of a conversational approach so it's a good choice if you're looking to gain knowledge in less of a 'lecture' form. To the young adults that are curious about their deen, balancing uni and work life, and striving to be better versions of themselves – this ones for you.
Where Can I Listen?
---
#7 Talk Ya Haqq
Best for Muslim Youth / Young Adults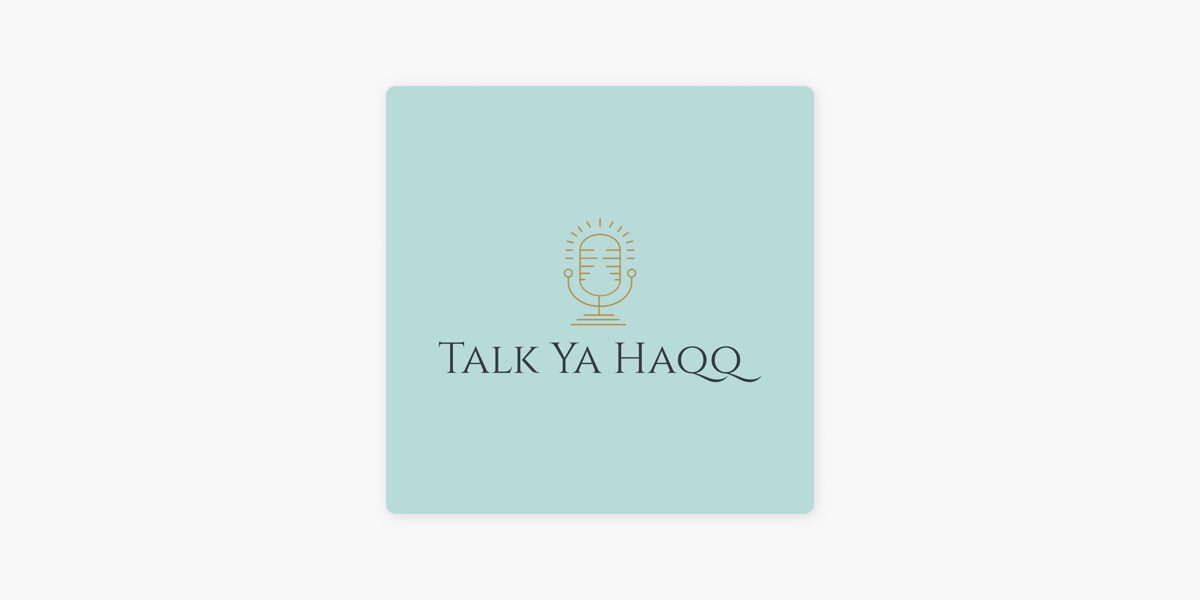 Talk Ya Haqq is a recent podcast hosted by long time friends Abdikarim and Idris talk about real issues affecting the youth and how they began developing a meaningful connection with their Lord.
Understanding how the youth can become misguided in this day and age, the two hosts shed light on topics such as gang violence, drug abuse, peer pressure and adversity.
Who's This Podcast Good For? 👇
Young males navigating their faith whilst dealing with the temptations and trials of this world have really taken to this podcast. Sharing their own journeys, Abdikarim and Idris successfully relate to their audience, making any listener feel like the third person in the room!
To any young Muslim that wants to be apart of an in-depth yet casual conversation on the realities of this world, we'd highly recommend adding Talk Ya Haqq to your playlist ASAP!
Where Can I Listen?
---
#8 Sadly Relatable Podcast
Enjoyable and thought-provoking sibling podcast

Sibling duo – Nisrin and Kalo – had been making waves in the world of Instagram before deciding to join forces and bring Sadly Relatable to our ears! The pair have since been producing weekly episodes for just over a year and use their platform to talk all things funny dilemmas and personal anecdotes, as well as creating space for conversations on mental health, anxiety and dealing with trauma.
As two young Muslims navigating their ways through life, these siblings do not leave any topics off the table, all while providing a good sense of humour in each episode – according to their loyal SR Family.
Who's This Podcast Good For? 👇
Similar to a lot of the podcasts we've listed in this article, Sadly Relatable is an awesome choice for anyone needing a 'pick me up' on a long drive home, or just an enjoyable listen on a cosy Sunday evening. ☕️  You can guarantee a lot of laughs along the way and some – well – sadly relatable moments to make you feel part of a much larger online community! 🎉
Where Can I Listen?
---
#9 Hijabi Diaries
Best for Short, Digestible Episodes

The newly founded podcast, by Pakistani host Malika, is a platform that aims to help young Muslims strive towards bettering themselves in their deen and personal pursuits. Sharing thoughts on topics such as Hijab, depression and love, Hijabi Diaries provides short snippets of helpful advice and tips.
Who's This Podcast Good For? 👇
If you're an on-the-go busy bee that doesn't have a lot of time on their hands, Hijabi Diaries is a great way to take in beneficial advice without listening to any hour-long episodes. The easily-digestible audio clips make this podcast an efficient way for any Muslimah to tune into throughout her hectic day. 🤝
Where Can I Listen?
---
Summary
Podcasts are just an all-round awesome way of learning something new, grasping different perspectives, and transitioning away from music. If you're someone who is struggling to detach from music and need a beneficial alternative, we'd recommend ploughing through this list and finding the podcast that takes your fancy!
If you're new to the podcast realm, why not immerse yourself into the meaningful conversations and inspirational stories of like-minded individuals? 😌