I started up my Etsy online store in April 2021.
With Covid restrictions still looming, and my part-time job coming to an end – it was a time where I was solely relying on my savings, and not really making any extra income.
Eid (the day of celebration for Muslims) was fast approaching, and with around 7 nieces and nephews to spoil on that day,  I was thinking how I could make a little extra money within the next two months or so.  
This was the beginning of my Etsy journey, and I've now put it all into this simple guide to help you set up shop, too!
Here's what we'll cover:
🤔 The Idea – How it all started
📸 Importance of Product Photos – The game changer for me
🛒 Setting Up an Etsy Shop – Everything you'll want to know
💰 Pricing Your Product Well – Think of your audience!
🤳🏽 Promoting on Socials – Spread as much awareness as you can
The Idea
The idea behind the business wasn't too much of the 'light bulb' moment people assume. Essentially, every now and then, I'd jump onto Canva and create social media posts for my ongoing podcast. Being a frequent Canva user meant I knew my way around the graphic design platform, so I'd tend to get creative when I had the spare time. Here's a cool tutorial if you want to know the Canva basics!
Back to the story...
I began making some rough designs of Eid greeting cards because I wanted to print personalised ones to give to my family this year.
Finding Eid cards in your average gift shop proved impossible, or really overpriced anywhere online.
Here's an example of the very first (very rough) design I made by stitching together a bunch of colours and Canva elements 👇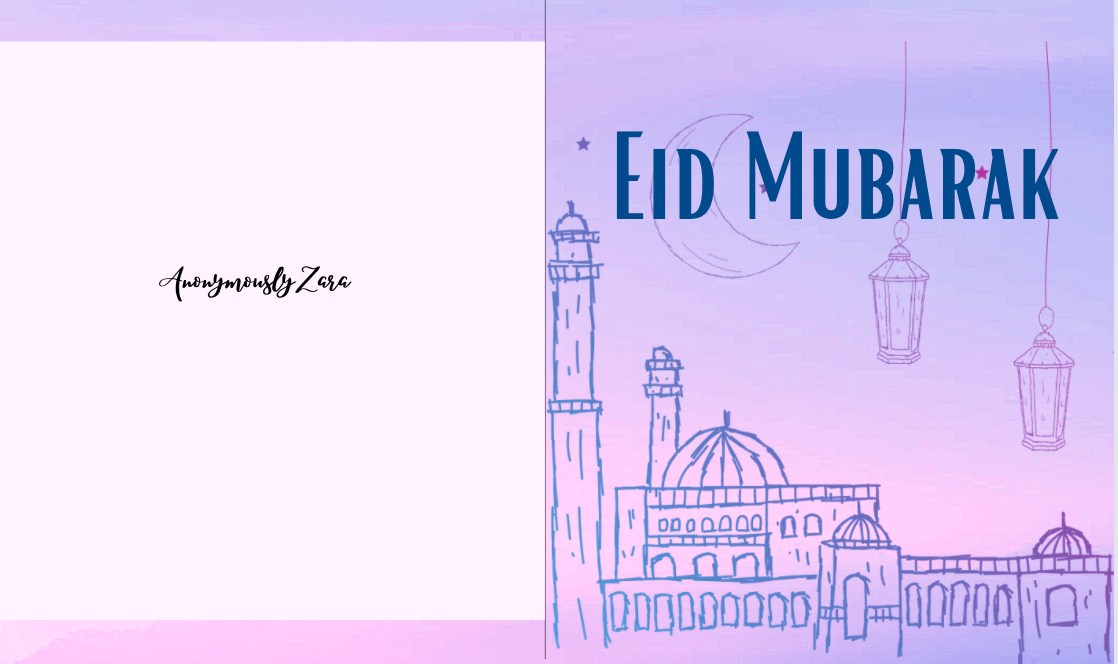 It was nothing exciting, and was certainly nothing I would think of selling to others. But what it did do was get me thinking. 💭
I remember asking my close friends if they ever had a problem with buying Eid cards, or if giving Eid cards was even a 'thing' in their families. The general consensus was that the celebration of Eid was getting bigger and better each year, so giving cards with presents just felt like a cool thing to do.
Again, the problem still remained of having nowhere to buy reasonably priced cards that were decent enough to display in the home.
Now that I knew there was somewhat of a demand for this product, I had to knuckle down.
How I Got Started
I created a few more designs (thankfully much more attractive than the one above!). Creating a little mood board with a range of colours, textures, and font styles etc. is a great way to get planning.
My design goal was to have cards that people didn't actually mind having in their homes.
Now I had my designs, I searched high and low for a good printing company with great value for money and, within a week, my beautiful, glossy cards were in front of me!
I started out with ordering 75 cards of each design, however this did leave me with quite a bit of stock left over. This is why I'd recommend ordering 50 pieces of your product as that way you can easily manage your orders and not be stuck with boxes of unsold stuff!
Invest In Your Product Photos!
I cannot stress this enough. Get awesome pictures of your products.
Of course the quality of the actual product itself is key, but the way you market it makes a world of difference. We all know how important brand presence is. We spend our lives buying a ton of things from companies we trust because the brand leaves a memorable impression in our minds, so we go back for more.
From a consumer perspective, I know that when I browse Etsy (or any marketplace), I'm clicking on the products that stand out to me the most.
How do they stand out? – Through the use of epic product photography.
I used Feedsauce, a well-known product photography company that let you send samples of your product, and you get awesome photos in a flash. 📸
Here's a behind the scenes snippet of the product photography process: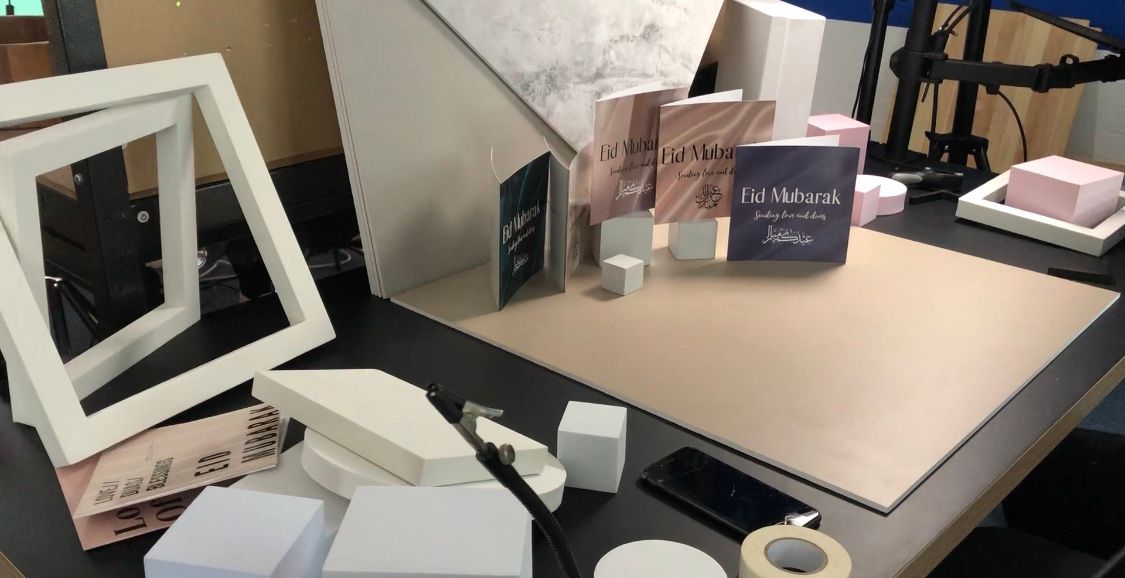 Aaaaand here were the final (🥺) results: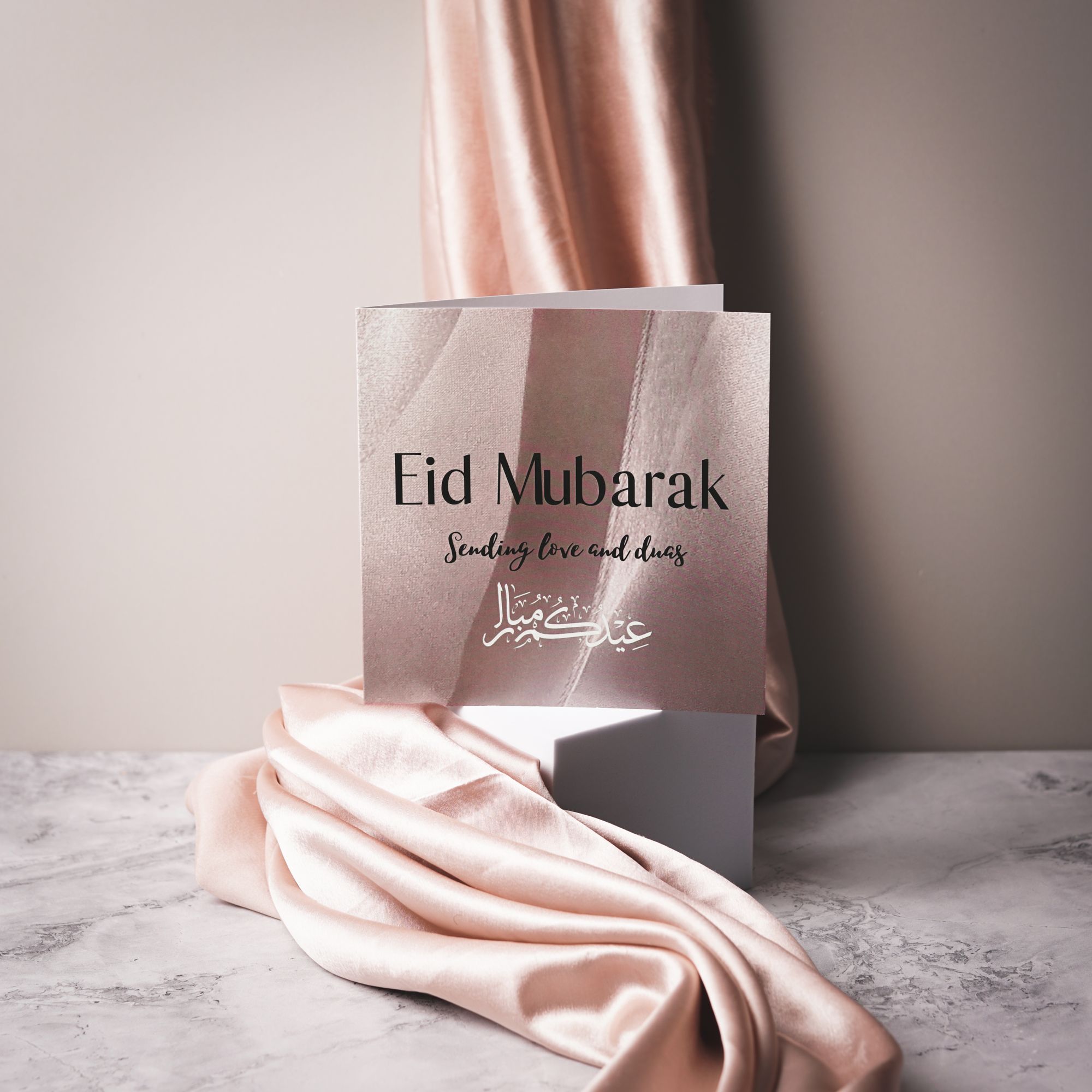 Setting up Shop With Etsy
Now my products were a reality and my photos were looking dreamy, I had everything I needed to set up my Etsy store. So let's first answer the big question...
Why did I choose to sell on Etsy over other platforms out there?
Traffic: Etsy is a marketplace so the amount of people that already visit the platform is in the millions. I relied on Etsy's popularity to get more traffic, instead of having to build and promote my own website.. just for a few cards!
Cost: There were no monthly fee to run my business on Etsy, nor did I have any paid marketing costs. I did have to pay listing fees and transactional costs but we'll talk more about that in just a moment.
Analytics / Easy to Use: Etsy's Shop Manager is pretty straightforward (take it from me who was a complete beginner in the ecommerce world). You get data insights which shows you how many people are visiting your store, plus it's super easy to manage orders and track progress.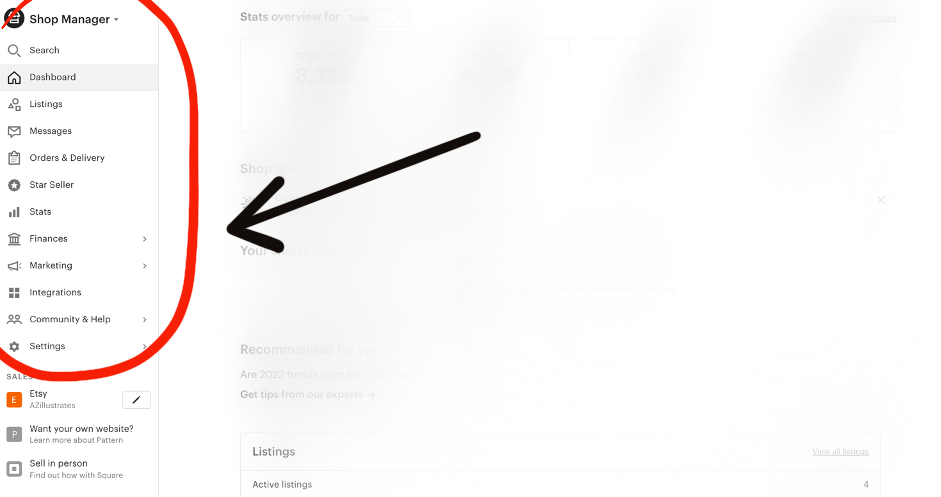 With Etsy, you don't need to integrate any third-party apps. Everything from incoming orders, to managing your listings, and even receiving customer requests can be done in this one dashboard. This is why I'd recommend Etsy to any beginner because of how simple it is to navigate.
Etsy helps you add listings and this is where you'll attach  photos and also give your product a name.
Naming Your Product
The name you give your product will make a huge difference to how many people click on your business.
Be as descriptive and informative as possible – let the reader know exactly what to expect (even if it seems obvious to you!).
For example, this is how I titled my best-selling listing:
"Pack of 5, Luxury Eid Mubarak Greeting cards, Envelopes Included"
It may seem super obvious that envelopes are included but, before I added it in the title, you'd be surprised how many people messaged me via Etsy asking if I'd send them one with the card!
My point is, be ADAP – as direct as possible –don't assume what your reader knows.
---
🤑 How to Price Your Products Well
One thing I can that was a crucial part of the business's success was pricing position compared to competitors. Don't be afraid to browse similar brands because it's important to get an idea of what price ranges you're up against.
Know Your Audience
My audience consisted of a lot of women aged between 18 - 30 years old. A lot of these women were mums with young children, or women that were likely students. Chances were, a lot of money was being spent on Eid presents, so this is something I had to factor in, also. I always knew the demographic I was trying to reach (especially with the designs I used) so keeping things cheap and cheerful was important.
I asked my close friends and family members how much they'd be willing to spend on my cards and used this as a stepping stone, too. This gives valuable insights into what they perceive the worth to be.
Think About The Profit You Take Home
Once you've calculated:
How much the products cost to manufacture
How much the shipping will cost
Transactional / Listing fees taken by Etsy
This will give you a strong idea of whether you need to price your products higher, or if there's enough wiggle room to bring the price down a little.
Here's an example of what the transactional fees/ taxes look like. On the right-hand side you'll see three different prices – the first one is the price of the cards, the one in red is what Etsy deducts, and the last price is what I'm left with.

It's not a crazy amount that gets deducted, but it's good to have a rough idea of what to expect before setting up shop with Etsy!
Don't be Afraid to Test and Iterate Once It's Live
When you start your own business, one thing to remember is never think that you've made the wrong decision and you're doomed because that certainly isn't the case.
If you feel the original price isn't working for you, feel free to go in and change it (give customers a slight heads up if you like). As much as we price products depending on our audience, if you know your hard work is worth a little more – then be strong in that and others will see it too!
🤳🏽 Promoting on Social Media
Social media is exactly what you think of it. If you need it to become a strong marketing tool that takes your brand to the next level, then guess what? That's exactly what it can be.
I personally didn't create a separate Instagram account for my products, mostly because I knew it was a seasonal business, and I'm not that consistent with posting in general!
But I definitely raved about my business on my personal account. I sent my Etsy link around to pretty much everyone I knew, even if it was via Whatsapp. My aim was to have as many people as possible visit my store because:
More store visits = more chance of showing up on Etsy's homepage
(A little formula to keep in mind 😉)
Don't be afraid to reach out to individuals with large followings, too – it's always worth a shot! Really shout and scream about your business because, you are your own biggest supporter 💓
📦 Etsy Shipping  – What You Need to Know
Okay, now that the products are gaining traction and the orders are slowly starting to creep in – let's talk about how you actually get them out to customers.
I knew absolutely nothing about shipping when I first started. Regular phone calls were made to my brother for the simplest of things like, "hey, what's a shipping label?" – Yep I really had no idea.
Because my greeting cards were so light-weight, I got away with a lot of cheap shipping (even when it came to international orders) but I appreciate this won't be the same if you have quite heavy products to send out.
💡
One trick I'd suggest would be to buy your
padded envelopes
/ boxes from Amazon, rather than your local post office because they work out a lot cheaper in bulk.
With shipping labels, you can either print them directly from your Etsy dashboard, or you can design and print your own personalised ones.
I went with the second option and printed my own. I did this by heading back into Canva and using a private folder (for data protection) and designing my own labels. Here's a made-up example of what they'd look like: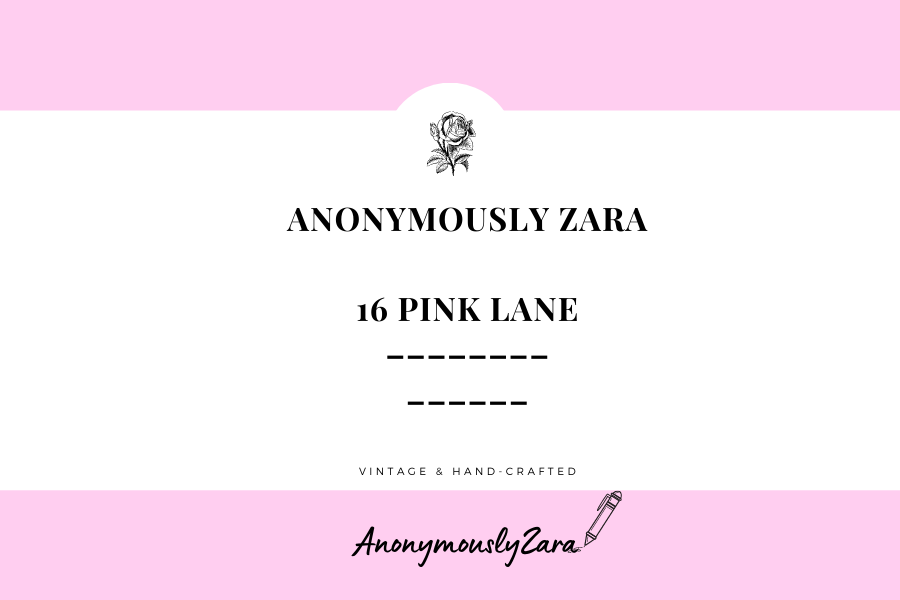 Creating your own labels that have your branding all over it gives such a nice touch to the packaging, and also makes customers feel good for shopping small because they see how much effort you're putting in.
It's the small things that count!
Once your products are carefully packages and labelled, you'll want to head down to your local post office, and they'll direct you from there depending on the size and weight of your product.
💡
Tip: Always try to get orders packaged as soon as you see them in your dashboard and send via first class delivery. It's a simple way of showing you're a quick and effective business that takes their work seriously. It also saves you from a whole lot of backlog in orders!
❤️ Customer Communication
The last thing we'll touch on today that will help get your Etsy store flying high is 'customer loyalty'.
Customers want to feel taken care of, especially when they put their money into something. As a small business, learning how to communicate and be transparent with your customers is crucial.  
Although we tend to see no fault in our own products, we can't shy away from other people thinking they're not up to scratch.
But what can you do if you get a negative response?
The first thing is to take a deep breath and remember that this isn't a moment of failure, but instead it's a chance for you to grow. Here's an example of what happened to me: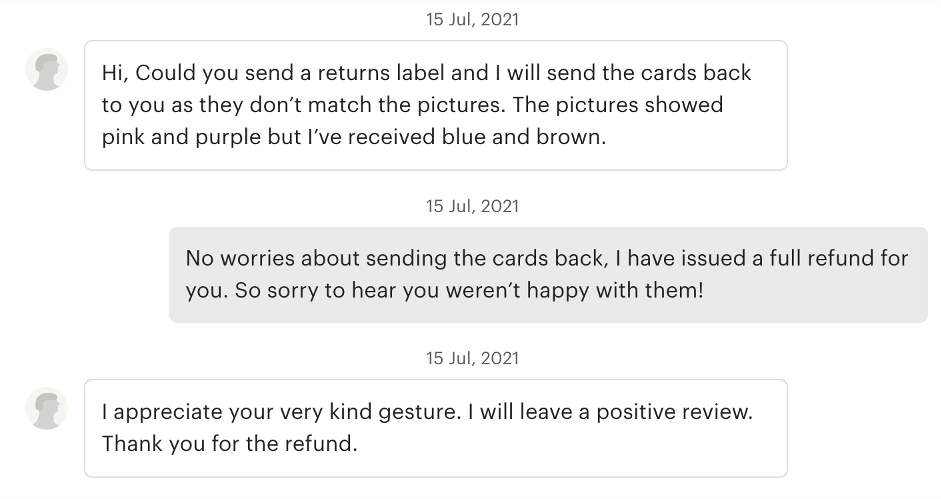 Of course I was devastated that someone thought the colours were deceiving, nonetheless, I couldn't let this bring me down.
It's important to remember that you are representing your business when you communicate with customers, so be understanding as possible. Although refunding the purchase didn't feel great, I knew that my customer wasn't happy – and in response to my gesture, they left a glowing review!
Being a kind business will always come back to you 💗
Summary
So that's a wrap, folks! I hope you've found this article beneficial in understanding the ins and outs of running a successful Etsy shop as a beginner.
Remember, my figures show what I made when starting from zero, but if you have a small business and are simply looking to expand into Etsy – then I'm certain you'll reach 10x more in revenue and success.
As for beginners, this is a really great option to get started with when choosing to selling online. It doesn't require as much mental and physical effort compared to building your own website, and the popularity of Etsy makes it a lot easier for your work to get the recognition it really deserves!
FAQ's  
How Do I Deal With Special Customer Requests?
I'd get special requests from customers all the time, asking me to write personal messages in the greeting cards for them. The short answer is – it depends! If you feel you can handle the request without ruining your product or packaging, then go for it. Adhering to requests can make your brand seem more friendly and personal.
If you don't wish to receive requests, Etsy has a toggle under each listing called 'Personalisation". Just switch that to 'Off' and you won't receive any more customer demands.
I Want to Sell on Etsy, But I'm Not Sure What Product to Sell?
This is the most frequent question / statement that floats about, but I completely get why. Sometimes you want to get your foot in the door but you're not sure how to go about it. Handmade goods and vintage items prove to be very popular in the marketplace, so how about giving that a go? Something that really lets your creativity flow!