What makes a great company?
There's a few things that would sell it for me:
Great work culture and values
Pay that shows your worth
Strong diversity
Healthy work environment
A company that isn't afraid of accountability
But actually a pretty important one, thanks to Covid, has become...
'the ability to work from home (or anywhere!)'
Whether it's because people enjoy the freedom of being able to wear what they want, exercise in their lunch break, or even hop back into bed for an afternoon power nap – working remotely is much more attractive than ever before.
If you're looking to join the millions of 'remote-workers' around the world, whilst experiencing an awesome work culture, here's the top 5 companies hiring:
#1 Slack
#2 99designs
#3 Automattic
#4 360Learning
#5 Varsity Tutors
---
#1 Slack

Great company if you're interested in:
Analytics
Customer Experience
Business Technology
Marketing
Program Management
Design Engineering
Company Overview
Slack is a task/ project management company that helps millions of businesses communicate with their teams. Being an active user of Slack myself, the app works wonders when it comes to sharing creative ideas with co-workers.
Slack is the fastest growing SaaS startup, which is a title they accomplished in five short years.
The Slack mission is 'to make work more fun' and less of a drag. Users of the app can create their own emojis and customise their virtual workspace whenever they like.
The management system  itself is favoured by many, but what's the crack when working for Slack?
Although Slack have headquarters all across the globe, they pride themselves on offering remote roles that are super flexible – I mean, it would only make sense to!
The company stated that "Slack is committed to shaping the future of distributed work", so working from anywhere is definitely possible.
Comparably Company Ratings
Culture Score – 4.5 out of 5
CEO Score – 89/100 (top 5%)
93% of Employees believe they work in a positive working environment.
Core Values

Slack emphasises the importance of being flexible, inclusive, and connected. No matter where you work in the world, the company makes sure you feel part of a solid team – sounds pretty good to us!
---
Looking for Internships?👇
Slack offers a ton of internship roles, so it's worth checking them out here to see if any take your fancy!
It's good to note that a lot of these internships start in the Summer of 2022 but applications are already open.
Internships don't require specific educational experience, but if you've been a part of any programs in the past, it's definitely worth shouting about to help you stand out from other applicants.
---
---
#2 99designs

Great company if you're interested in:
Graphic Design
Creative Arts
Software Design
Company Overview
If you haven't heard of 99designs, they are a global creative platform with a mission to make it easier for clients and designers to work together online. The big freelance community of 99designs has helped millions of design projects evolve, and brought together creatives from around the world.
Similar to Slack, 99designs is all about making work more collaborative and fulfilling. This speaks volumes through their work culture as they are proactive in hiring people from all backgrounds and experience levels.
The company helps you kickstart your freelance career in two main ways:
Work Directly with Clients –
99designs helps you connect with businesses or individuals that are looking for designers to work on 1-to-1 projects with them. This is great if you want more focussed work and simpler communication. You can set your own prices 💰 and match with clients that fit your vibe!
99designs know the hassle of having to chase up invoices, so they request full payment from the client, and then release that payment to you once the project has been completed.
Compete With the Community –
The second option is you can submit your design concepts to Design Contests and earn money that way. Around 1500 contests open each day in different categories so you can browse before entering!
The only downside to this is that entering contests can be time-consuming, and annoying if you don't win. Nonetheless, it's a great way to build your design portfolio and get seen by big businesses.
---
#3 Automattic

Great company if you're interested in:
Business Development
Marketing
Engineering
People Management
Company Overview
Automattic are the big guys behind awesome platforms like WordPress.com, Tumblr and Simplenote. Essentially, they run a lot of popular online softwares to "help make the web a better place". Automattic is a global distributed company that is very vocal about their stance on remote working – they love it!
In fact, the CEO of Automattic, Matt Mullenburg, stated working remotely is "good for the environment" and "good for the economy". We couldn't agree more, buddy.
Automattic Hiring Process
The CEO continued to talk about the hiring process of Automattic and said,
"For the vast majority of our roles, the hiring process is done entirely over chat. So you could be hired and start a job at Automattic without ever seeing or talking to a person in real time."
He also stated that the interview should be about your skills and experience, and less focussed on "how you're dressed, how you showed up, how you look". Inspiring stuff.
Here's some application tips from the team at Automattic themselves:
Tailor your resume to the position you're applying for – pick out and showcase your skillset that is the best fit for the role. Most hiring managers skim-read resumes so don't be afraid to highlight the important bits!
Don't just talk about your experience, tell them why it mattered to you – what did that achievement mean to you? Did you learn anything from it, or was it just a big win? Deets please!
Get a cover letter in there – Automattic put heavy emphasis on seeing a cover letter because it helps them get to know you beyond the skills.
What qualities Automattic are looking for when working remotely:
Individuals that are self-starters
High level of independence
Receptive to feedback
Motivation to continuously learn
Do you think that sounds a bit like you? If so, here's the list of available vacancies at Automattic 👇
#4 360Learning

Great company if you're interested in:
Design / UX
Sales
Marketing / Content Creation
Recruitment
Data Analytics
Company Overview
360Learning is one of the first 'Collaborative Learning Platforms' in the post-Covid world.
In other words, 360Learning is a platform that any medium-sized business can use to help educate their teams / employees / co-workers. The platform provides a ton of resources, collaborative tools and courses for individuals to take part in and further their knowledge in the field.
Instead of endless (and boring) employee training, managers can create quick video tutorials and post it on the platform for everyone to refer to at a later time. This has, no doubt, seen a lot of success in the new WFH world we live in.
Want to know how to join the team behind 360Learning?
Keep reading 👇
What We Like About This Company:
What's really nice about 360Learning jobs is that they give you a full breakdown of what your journey will be like in the next 3 months, 6 months, and 12 months.
Here's an example from a Marketing Manager job post  👉🏼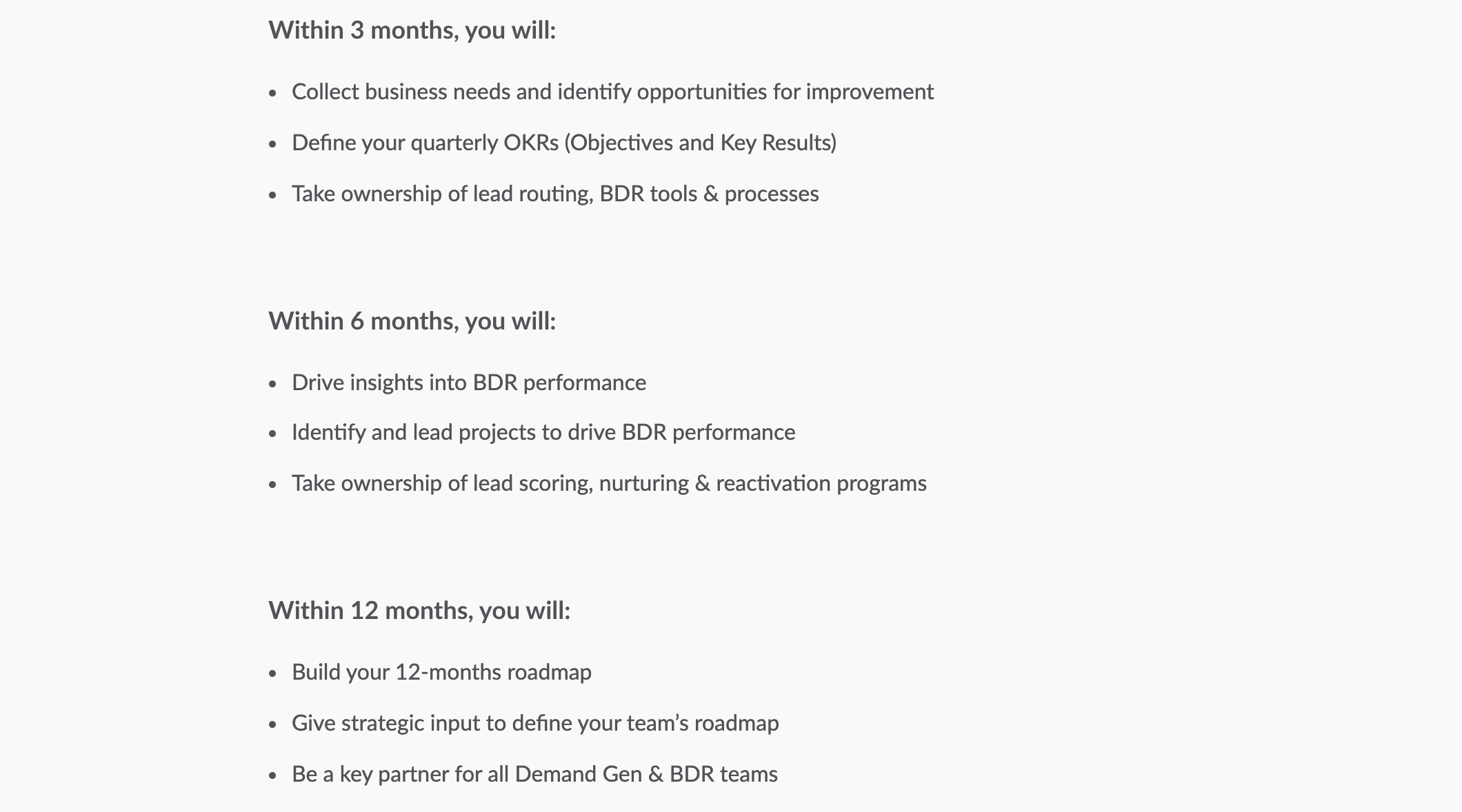 This is pretty awesome if you're someone who likes to know exactly what they're in for before starting a new job! It also shows that the company care about your progression and what you can gain, and not just what you can offer them.
Perks and Benefits 😎
Through vigorous research, it's clear that 360Learning is generous when it comes to giving back to their employees – here's some of what you can expect:
Competitive salary
Generous Parental Leave
Remote-friendly and flexible hours
Casual dress in office
Home office allowance for remote-workers
Personal development programs offered
Interview Process
If you like the sound of 360learning so far, you might want to check out their hiring process which, compared to traditional hiring structures, seems pretty friendly!
Here's how it goes:
📞 Call with one of the company recruiters
📞 Discovery Call  (the initial call to see how you and the company could be a good match)
📖 Case Study (this will put your skills to the test)
👯‍♀️ Discovery Team Interview (this will be with two members of your potential team who will give a deeper insight into what the role will entail)
🤝 Culture-Fit Interview (with the co-founder 👀)
🎉 You're In!  (Depending on how all the previous steps go, a hiring decision will be made)
Although this interview process may seem pretty long-winded, remember that all the steps usually happen fairly close together – and it's pretty refreshing to get to know the whole team before joining!
Think this could be the company for you?
Find all 360Learning's current vacancies here 👇
---
#5 Varsity Tutors

Great company if you're interested in:
Product & Design
Sales
Human Resources
Engineering
Finance & Accounting
Marketing
Company Overview
Varsity Tutors is an education platform designed to help students connect with tutors through either group or private tutoring classes.
The platform provides features like video chat, interactive tools and collaborative workspaces to make e-learning simpler and more engaging. The platform currently has over 30,000 experts across 1,000 subjects, so there's a lot of scope for progression no matter what level the student is at.
If you think the mission of this company appeals to you and you'd like to join the team behind the dream, check out the list of jobs they have going currently 👇
Summary
We've now covered some of the awesome companies you can be a part of from the comfort of your sofa! In the world of remote working, more companies are finding solutions to working collaboratively yet virtually, and it goes to show that anything is possible. 🏄🏾‍♀️
If you're looking for a new job, wanting to join the WFH life, or whether you're just not a big 'office-lover' 😬, we hope this article was useful! Let's have a quick recap of the companies we spoke about before we sign off:
Slack – Task / management system for organisations
99designs – global creative platform for designers
Automattic – Owns popular online softwares like WordPress / Tumblr
360Learning – Collaborative learning platform
Varsity Tutors – E-learning platform to connect students with expert tutors
If you enjoyed this article, make sure to share it with a friend so they can benefit too!