Decorating the home (or a corner of your bedroom!) for Ramadan has been an upward trend recently – and we're totally here for it.
There's something so beautiful about seeing people fill their homes with Ramadan-inspired decor to keep up for the whole month. It's the perfect way to get you in the right frame of mind while making the whole experience a whole lot more enjoyable for everyone!
However you're planning to welcome those 'Ramadan feels' into your home, allow us to inspire your creativity with these awesome decoration ideas...
🕯 Lanterns...Like Everywhere
There's something about having serene lamps and lanterns placed around the house that add to that cosy, evening vibe!
You can prop these lanterns up on a sideboard or cabinet, or you can have a collection of lanterns placed safely on the floor. Be sure to use battery operated lights inside the lanterns for caution.
2x Antique Rose Gold Metal & Glass Tea Light Candle Lantern – £18.99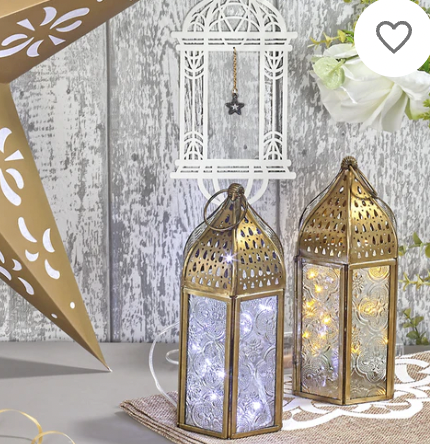 Use code AZ10 to get 10% off any EidParty purchase!
---
🌟 Hanging Decorations
Go the extra mile and get those decorations hanging from any ceiling, door, or wall! You can even keep these up as part of your Eid decor, too.
Large Gold Paper Hanging Star Eid and Ramadan Decorations – £6.99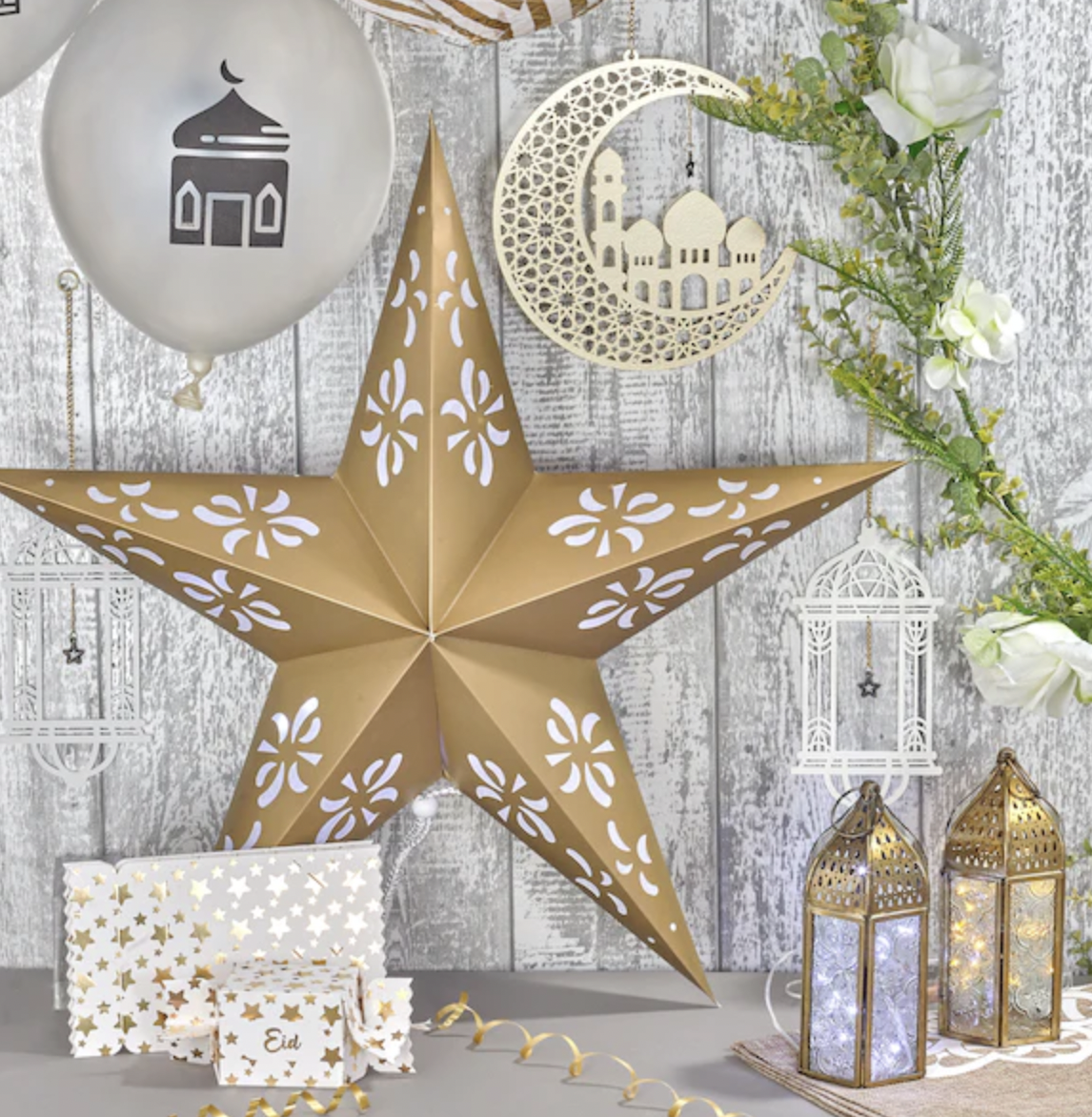 ---
Lights, Lights and More Lights!
Is it even Ramadan decor if you haven't dug out the string lights and somehow managed to stick them across the wall? We didn't think so!
Lights can make all the difference, especially on those Ramadan nights when hosting friends and family.
Tip💡: Use command hooks to hang your lights instead of sticky tape as this can end up ruining your walls or leaving marks.
Ramadan Stars and Moon LED String Lights – £9.99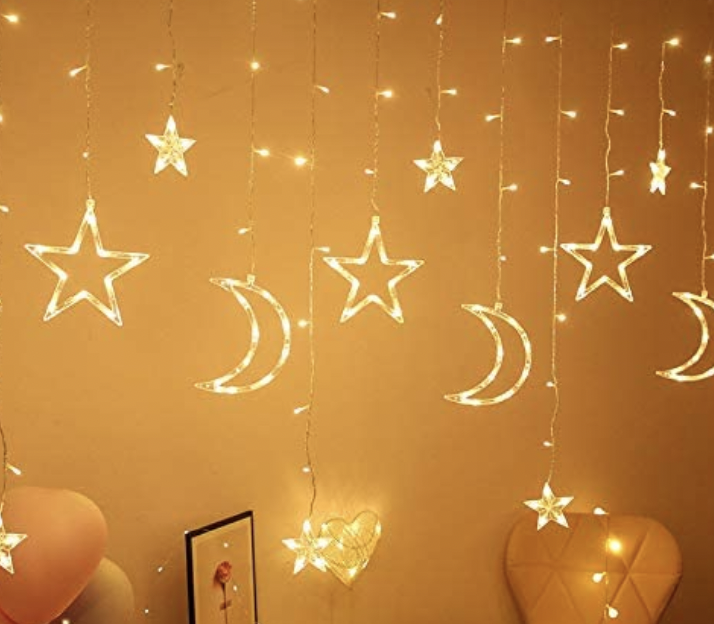 ---
📆 Cute Calendars for the Little Ones
Thinking of ways to introduce Ramadan to the kids? These calendars can be found in local supermarkets and online, and have little pockets for you to add sweets, chocolates or even toys.
These calendars are a great way to encourage little ones to look forward to the month of Ramadan and to embrace each day as it comes!
Chic Ramadan Calendar – £16.00 +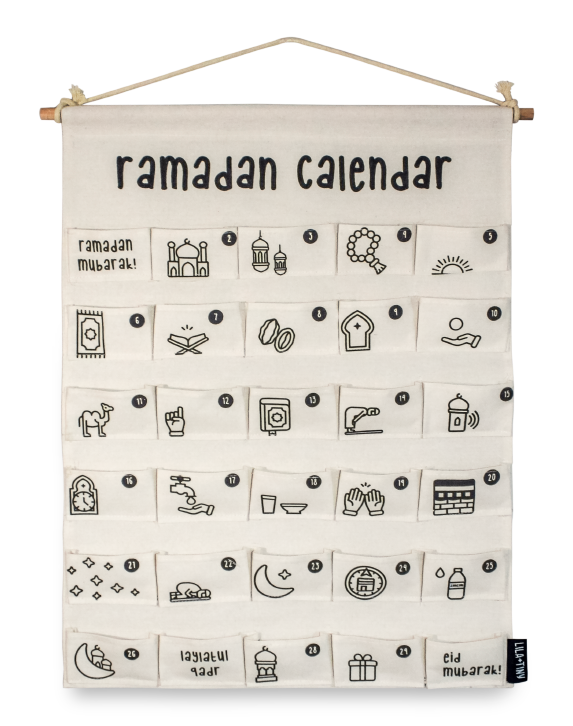 ---
🎊 Ramadan Bunting Banners
As balloons are less likely to stay up for the entire 30 days, bunting banners are a classic alternative.
Ramadan Mubarak Bunting Banner – £4.99 (on sale)
---
Cushions and Floor Seating
Whether you want to stay seated on the floor after praying you salah to just quietly read Qur'an, or you want to follow the Sunnah of sitting on the floor to eat – you'll want to make it as cosy as possible!
Get a bunch of cushions (and some pretty covers) and spread them out in your room so there's always somewhere comfortable for you to sit.
Here's a visual to inspire you! 👇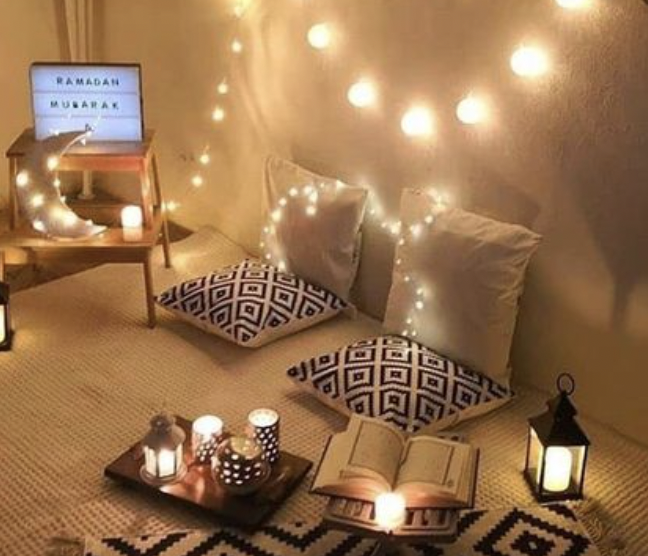 ---
Luxury Prayer Mats
There's nothing more cosy than praying on a soft new prayer rug, and sometimes it's the little things that make all the difference!
Stock up on some beautiful prayer mats for the month of Ramadan. While luxury prayer mats have a heavy price tag these days, Amazon do some gorgeous ones for a lot cheaper.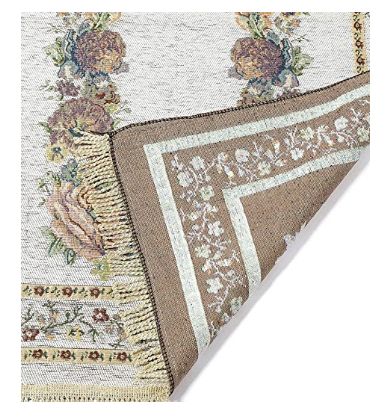 ---
✨ Arabic Calligraphy Wall Art
Spruce up your walls with some beautiful wall art with Arabic calligraphy! You can choose how many pieces you want to hang up and most art collections are sold in bulk, too. Here's an example 👇
Blush&Beige 3 Piece Wall Art Designs – £25.00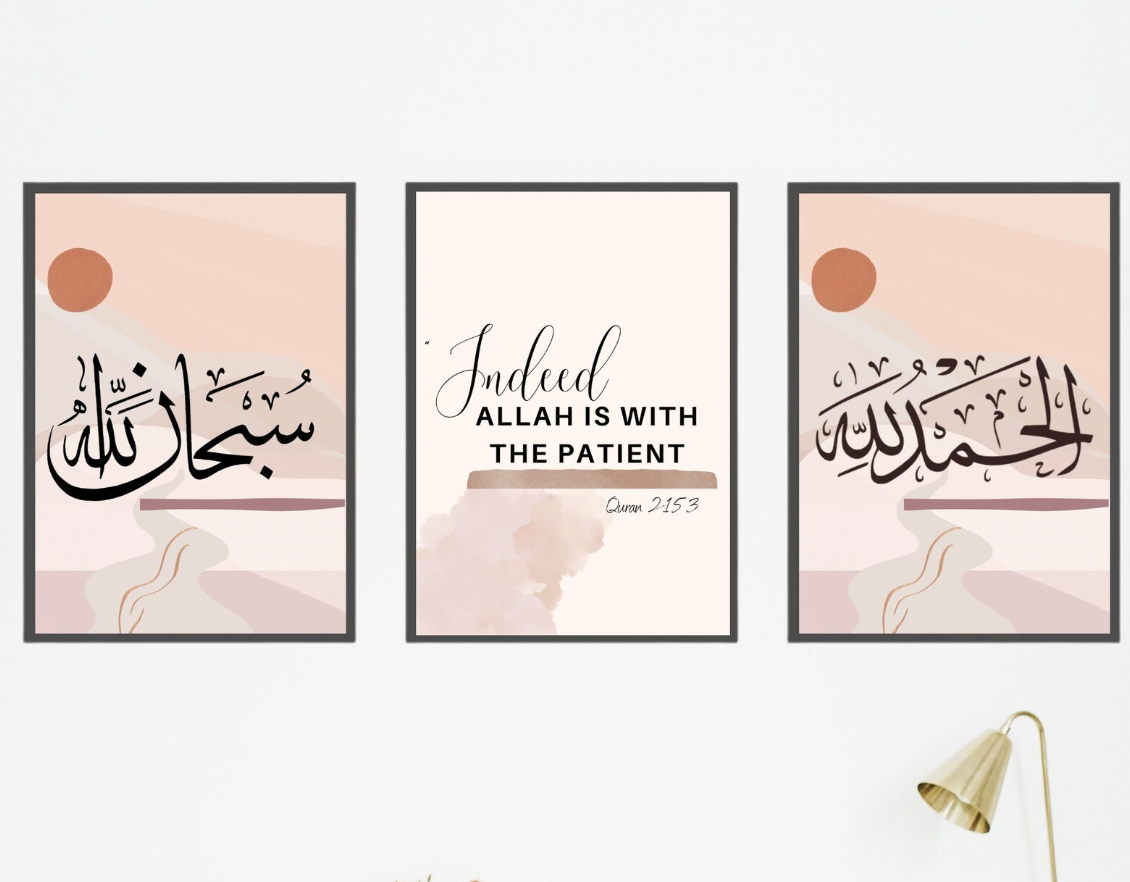 ---
🌿 Pampas Leaves and Plants
Pampas leaves made their way into homes everywhere during lockdown, but they certainly haven't gone anywhere! Add some indoor plants and leaves to your Ramadan decor this year for a modern twist on the cosy atmosphere.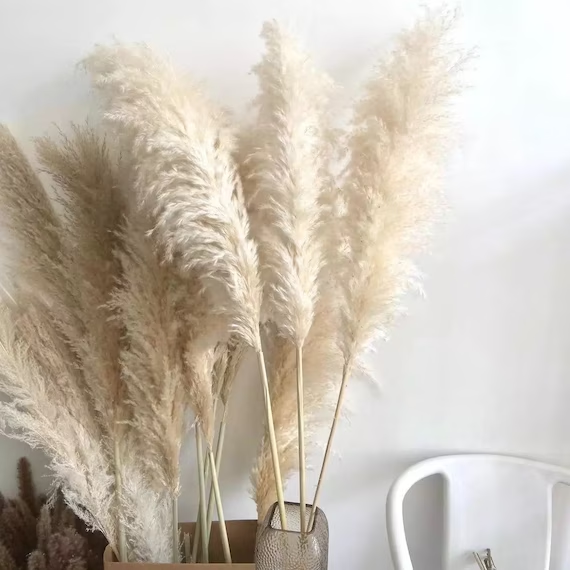 ---
🧺 Wicker Basket for Prayer Clothes and Mats
Ladies, you'll want to have your abayas and scarves in easy reach during Ramadan so why not have a cute little basket to store them in?
Not only do wicker baskets add a nice touch to a neutral-themed decor, it's also a practical way to keep all your clothes and prayer mats organised!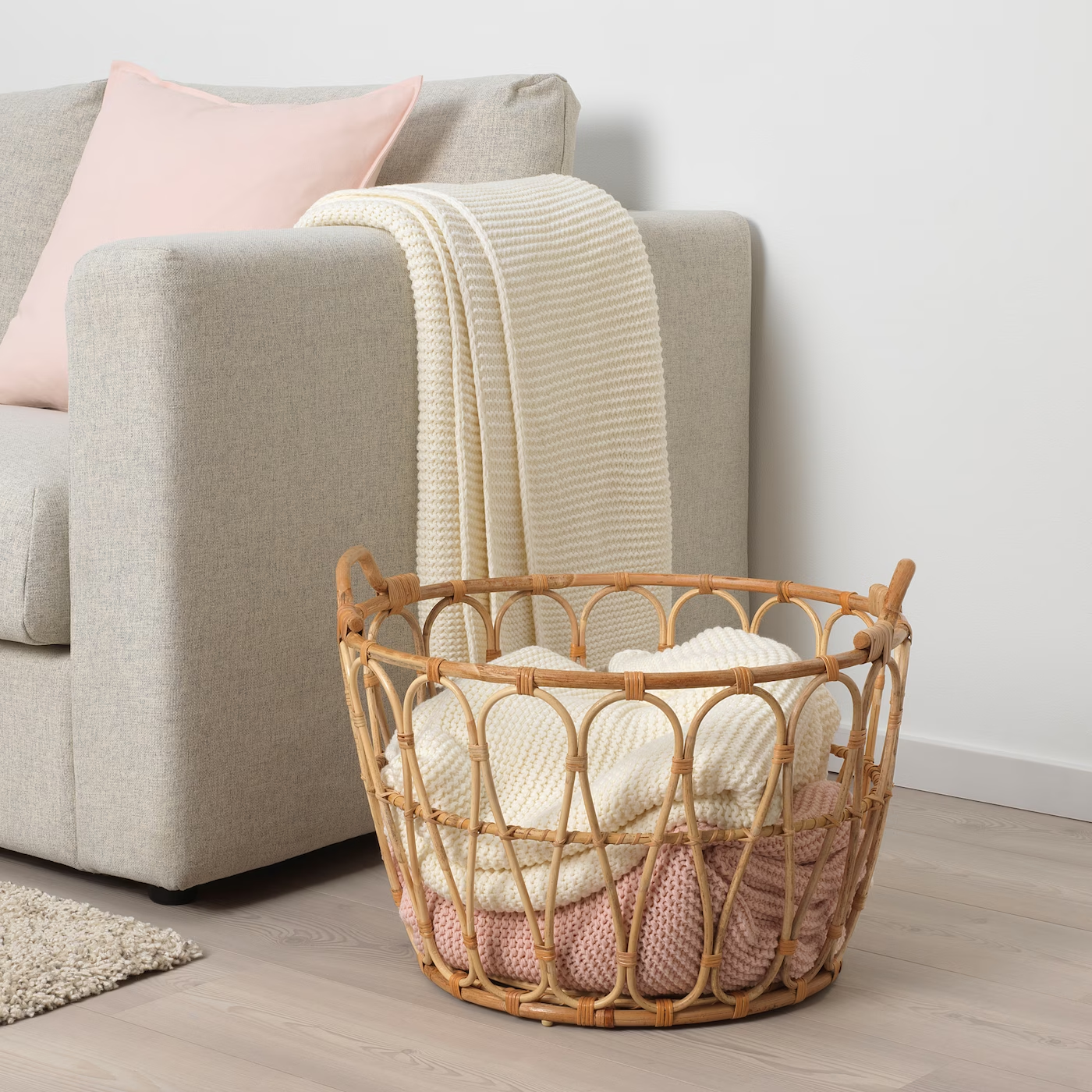 B&M stores have a huge range of affordable baskets and trays for you to utilise. Click below to check them out 👇
---
And that's a wrap!

We've gone through just a few ways you can bring your home to life this Ramadan and make the place beautiful for the month. What was your favourite decor idea? Let us know in the comments below! 👇