Is transforming into a highly productive powerhouse of a person on your 2023 goals list this year? Because, same.
I'm part of that percentage of people who can't help but scroll through tweets on how to be crazy efficient or how to keep working whilst we sleep – Realistic? Probably not.
But, love it or hate it, our generation has tech.
And with tech, comes an innumerable number of apps that can help us stay on our A-game.
As a Muslim, 'getting work done' isn't the only thing on our to-do list. We also care about staying on top of our Salah, making time for Qu'ran, and maintaining family ties. But there's apps for that, too!
Here's our list of the 5 top apps to download to become a more productive Muslim in 2023:
1. Pillars App – Best for Tracking Your Daily Salah
2. Tarteel AI – Best for Qu'ran Memorisation & Recitation
3. Daily Muslim – Great for Remembrance of Allah
4. Muslimah App – Best for Finding Female-Friendly Prayer Spaces
5. Quranly – Best for Building a Daily Habit of Qu'ran Reading
Pillars App

It's not always easy to find an app that's both aesthetically pleasing to look at and offers responsive tools that are simple to use.
That's why users everywhere fell in love with the organically-grown Pillars App, founded by two university students from London.
From its beautiful user interface to the app's strong stance on protecting user privacy, Pillars became the go-to prayer app for hundreds of thousands of Muslims across the UK.
The young founders set out on a mission to build an app that improves the lives of individual Muslims, helping them pray on time and tick off each completed Salah throughout the day.

The animation on your dashboard helps users keep track of when to expect each salah at different points of the day. The use of these graphics are a great way to motivate Muslims to complete all five daily prayers and feel a sense of accomplishment.
If you're heading into 2023 with a goal of being more consistent with prayer, Pillars is definitely an app you'll want on your phone!
---
Tarteel AI
As the world's first A.I powered Quran companion, Tarteel is helping users everywhere improve in their memorisation and recitation of the Quran.
There's no doubt that the last few decades have seen the tech industry soar into becoming something that manages much of how we spend our day. But, while there is so much out there that hinders our productivity and results in us wasting our precious time, Tarteel founders infused their passion for tech with their love of Qu'ran to inspire a global community of Muslims to connect with book of Allah.
Tarteel AI is a quintessential example of how ground-breaking tech can be used for greater good.
Focusing on the four key areas of memorising, reading, understanding and reciting the Qu'ran, the tech founders of Tarteel introduced digital tools that:
Help highlight any mistakes as you read
Interacts with your recitation
Find any ayat (verse) from the Qu'ran instantly
Show stats to help users track progress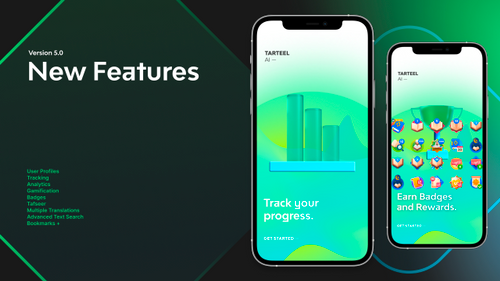 While many of us can't imagine leaving our phones anywhere, why not utilise it in a way that benefits us in this life and the next?
Take your Qu'ran journey to the next level (anytime and anywhere) by checking out Tarteel AI.
---
Daily Muslim App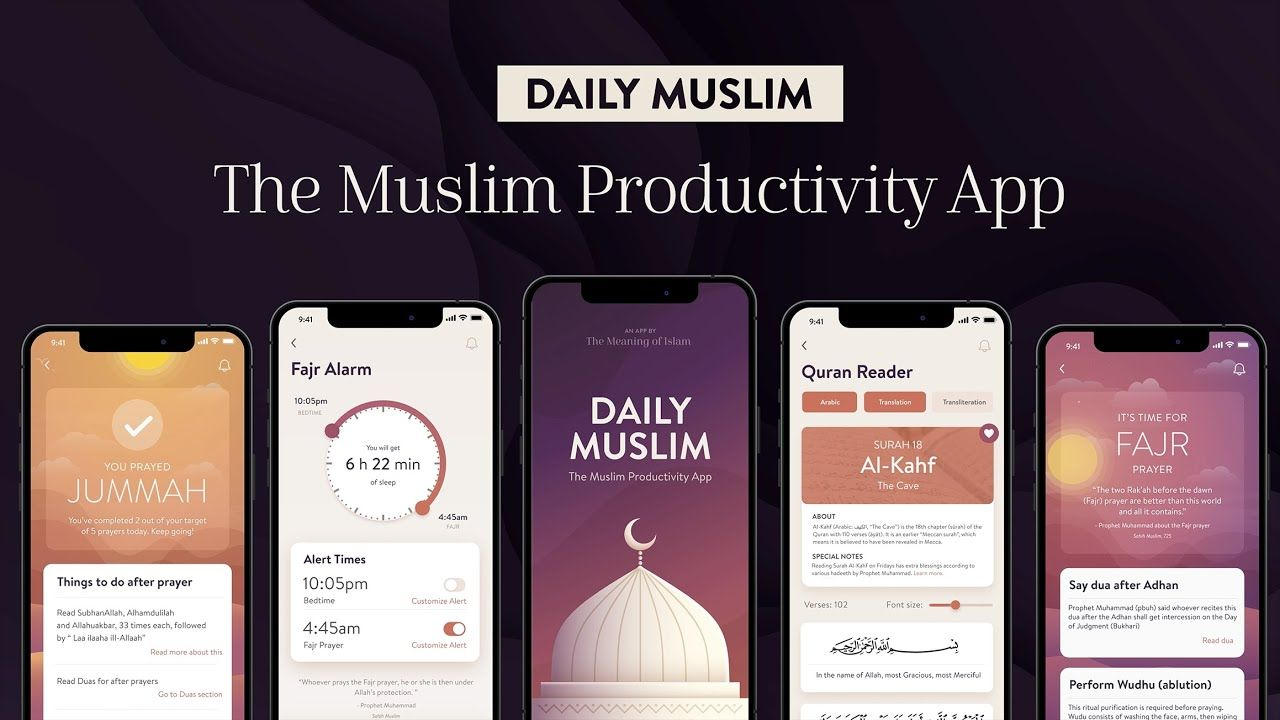 Founded by UX/UI designer and supermum, Ayesha, Daily Muslim app encompasses a range of features helping users remember Allah SWT through 'verse of the day', ahadith, Islamic Trivia and a display of prayer times.
It goes beyond being an ordinary prayer app by set daily goals with the hopes of forming amazing life-long habits.
Daily Muslim App lets you set notifications for each salah so you'll always know when the call to prayer has happened. Plus, you can choose your favourite reciters for each alert to really customise your experience.
Want an inspirational ayah to read each day? Daily Muslim App has one waiting for you on your dashboard as soon as you click in.
Its premium features also let you bookmark your favourite surahs, so you can quickly revert back to them without searching through.
---
Muslimah App

I've had the pleasure of working closely with the ladies at Muslimah, so as a long-time user, I've been able to see just how transformative this app is for being more productive.
As the first Islamic app for Muslim women, Muslimah showcases everything from female-friendly prayer spaces near you, binge-worthy and beneficial blog posts to keep you entertained, plus instructions on dhikr to read after every prayer.
This app is great for women who want to stay consistent with their salah, duas and dhikr especially when they're outside. With the ability to show the nearest prayer space to you, you can rest assured Muslimah will help you fulfil your salah wherever you are.
---
Quranly
Branded as the habit-building Quran app, Quranly has gained world-wide recongition for its ability to help users build a routine with the book of Allah.
How has it managed this?
Well, its interface is designed to give you a visual representation of your daily progress. With features like the hasanat (reward) counter, display of how many pages you've read, and how much time you've spent with the Qu'ran overall, Quranly incorporates a game-like approach to helping you read more.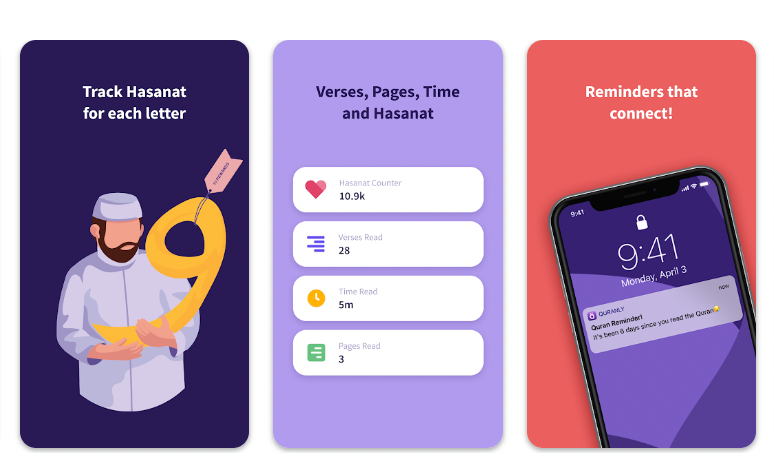 If maintaining a consistent realtionship with the Qu'ran is a top priority for you this year, Quranly can help you achieve this! Why not download the app, give Quranly a go, and collect some hasanat for yourself? 🤲🏼
---
And that's a wrap!
We've covered some of the top apps to help you build your productive Muslim routine in 2023, including building consistency with the book of Allah SWT and staying on top of your five daily prayers.
As Ramadan is fast approaching, now is a great time to incorporate more acts of worship and integrate them into your daily life, and these apps can help you do exactly that!
Have other app suggestions that you'd like to share? Drop them in the comments below to benefit our community InshaAllah!