It's been hard to miss (let alone, ignore) the latest news of France banning the abaya for girls in public schools. The ankle-length dress, a choice and belief held dear by many Muslim women, has been noted as a threat of religious proselytism, according to French Education Minister Gabriel Attal.
Now, if you've been keeping tabs, this isn't exactly France's first rodeo trying to police how individuals express their faith in the public sphere. It's a move that seems pretty out there for a nation that's big on the whole 'liberty, equality, fraternity' thing.
But hey, it's 2023 and if there's one thing we've got, it's the powerhouse of social media to share our thoughts, feelings, and let's face it, our outrage over decisions like this. Here's an insight into how the world is reacting, as they should.
1."The protest bar is so low"
The abaya ban in France is so stupidly islamophobic, that the bar to protest it is so low. The outfits being rejected are even in fashion rn lol you could literally show solidarity and serve looks. It's less effort than badly chopping a chunk of your hair on camera too btw x

— Amina (@yeahshewrites) September 6, 2023
2."The theory that Muslims are trying to replace the French"
Muslims account for 10% of the French population.

The real # is likely higher.

The French Hijab Ban, Abaya Ban, and Islamophobia is in great part a response to the fear in France that "Muslims are seeking to replace French people."

This is "French Great Replacement Theory."

— Khaled Beydoun (@KhaledBeydoun) September 6, 2023
3. "What's the real issue?"
I will always be confused by the policies of France because why are you so bothered by what I'm wearing? Why does my dress make you so angry? How does it affect you in any way, shape or form? It's not distracting students from learning so what's the real issue? #abayaban

— Sunflower Babe 🌻 (@softyellowpetal) September 6, 2023
4. "Being modest is more offensive than being naked now"
Over 5million Muslims in france and i'm struggling to believe that not one has been consulted before a passing of a new law which will ban children in public schools from wearing the abaya, a loose-fitting, full-length robe worn by some Muslim woman (including Mother Mary) -…

— Sonny Bill Williams (@SonnyBWilliams) August 30, 2023
5. Have they though?
Has a single women's rights organisation or feminist group condemned the attacks by the French government against Muslim women and their education in France?

— Fatima (@fatimazsaid) September 6, 2023
6. 👇
Im so sad to hear that schools in france have already sent dozens of muslim girls home for wearing an abaya. again I ask france, if you think it is oppressive to wear an abaya- what makes you think its not oppressive to dictate what she cannot wear. I stand with muslims in france

— ZAYNA🪩 SAW #BottomsMovie (@sitcomabed) September 6, 2023
7. "When 'freedom of choice' comes to an abrupt end"
When you choose to wear the hijab or the abaya but the state blocks this choice, where is the equality or the freedom of expression? Where is the outcry from feminists?https://t.co/5kl8eRdNLG

— Mobashra (@mobbiemobes) August 31, 2023
8. "In the absence of any rational alternatives, I'm inclined to think France's new abaya-ometer might look something like this.."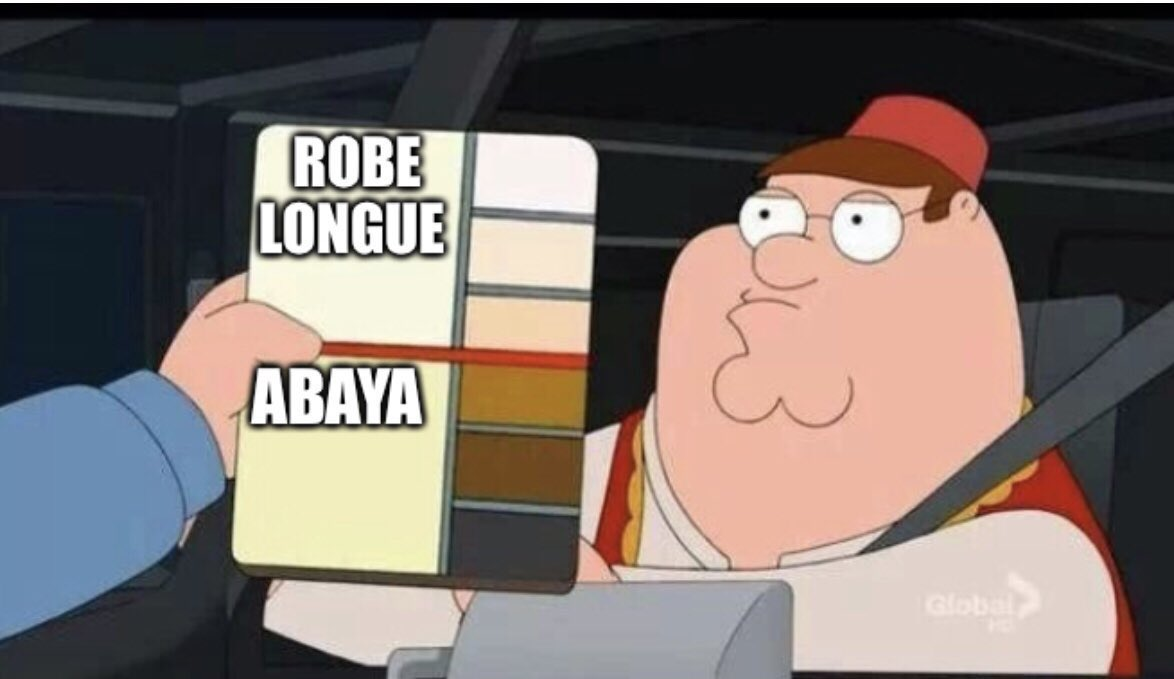 9. "Producing H&M receipts because it looks too much like an abaya..."
A girl wearing a long dress was forced to produce a receipt to show it was from H&M because it looked too much like abaya 🥴
If you like to cover your legs while being from the wrong race, it is proselytizing, you see.

— niqabette (@niqabette) October 7, 2022
10.
France's abaya ban is quite literally the height of hypocrisy.

— Shama Nasinde (@thestoryofshama) September 6, 2023
11. "Graduation as an exception 🎓"
They ban the Abaya until it's graduation day, then they all join to wear the very same gown they banned to signify success. #france #abayas #doublestan

— iamkhadar (@khadar_bishar) September 6, 2023
12. "Political point-scoring at the expense of young girls and their mental health"
No man, no institution, and no government should have the right to police what women and girls wear.

This is happening in France, again.

The abaya ban is not "laïcité". It is discrimination and political point-scoring at the expense of young girls and their mental health. https://t.co/bzEVIbwcZH

— Sarah McGrath (@SarahMc_G) September 4, 2023
Anas ibn Malik reported: The Messenger of Allah, peace and blessings be upon him, said, "A time of patience will come to people in which adhering to one's religion is like grasping a hot coal."
May Allah protect our sisters in France and grant them ease.